WaPo-ABC's latest national poll shows Hillary Clinton still leading, as she has for the last three weeks, by 4 points with undecideds at 5 points. Today's WaPo headline, "Obama, Clinton Are Even In Poll", however, is wrong in substance and tone. While the Clinton lead in this poll is within the margin of error, two additional national polls show stronger data.
Substantiating her lead nationally among 'likely Democratic voters and leaners', a Gallup poll ending Feb 1 shows an larger 7 point lead for Hillary Clinton with 7-8 % undecided. The margin of error is 3 points.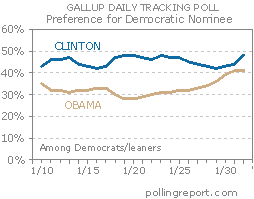 Fox News, adds to the data, in a Jan 30-31 poll showing a 10 point lead for Hillary Clinton with 11 percent unsure. Their margin of error is 5 points.
[All poll links to the actual questions and resulting data courtesy of Polling Report which has complied the result on one page.]
Buried in the 10th paragraph of the WaPo story is this important data:
"47 percent said she is the most electable, while 42 percent said Obama has the better chance"
While electability has been the 'dirty' word in this primary season it is the key to beating the apparent Republican nominee, John McCain.
Hillary Clinton is still the leader in this race although no one can predict the movement of the undecided voters or the unpolled voters.