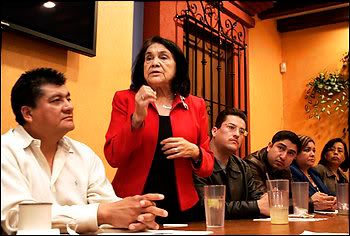 There is an excellent article in WaPo about 'Clinton's California Dream Team', including Dolores Huerta, co-founder of the United Farm Workers, actor activist Rob Reiner and L.A. Mayor Antonio Villaraigosa. 
(Rob) Reiner was one of those backers Clinton called on, and there were many others — people such as Amy Rao, a Silicon Valley businesswoman adept at fundraising; Antonio Villaraigosa, the dynamic mayor of Los Angeles; and Dolores Huerta, a labor activist beloved in the dusty San Joaquin Valley.

These four Californians were emblematic of the support Clinton received from the entertainment and technology industries and from the state's Latino leaders. In the week before the Super Tuesday contests, they pushed her message from the opulent ballrooms of San Francisco to the Mexican tiendas of East Los Angeles, working 20-hour days to combat Obama's accelerating popularity.
Fascinating reading about the dedication and variety of people who stepped up to deliver California for Hillary Clinton.
Reiner considers Clinton most prepared to navigate bureaucracy — a sense she reinforced for him with a strong performance at the Kodak Theatre. Afterward, he pulled her aside to congratulate her.

"She was sky-high, more up than I'd ever seen her," Reiner said. "She knew she'd done well. […]

Rao, 45, wrote her first political check for Bill Clinton more than a decade ago because she credited his economic policies with helping her build a $120 million computer storage business. She felt a similar devotion to Hillary Clinton building within her. Rao still carried business cards that omitted her title as founder and chief executive of Integrated Archive Systems, because men sometimes considered her authority off-putting. Despite raising five teenagers and building a company from scratch, she had never overcome gender stereotypes. Maybe this was her chance. […]

A few months after Clinton announced her candidacy, Huerta made an unsolicited call to the campaign headquarters to offer support. She explained to a volunteer that Clinton had been a lifelong amiga of the Latino movement, and Clinton's office churned out a quick news release. Then Huerta forgot all about the endorsement — until Clinton called to say thanks a few days later.

At her dining room table in Bakersfield, Huerta listened as the effusive senator from New York talked about how much California meant to her campaign. Clinton said that Huerta, a trailblazer, could wield significant influence — a prophecy she fulfilled by helping to deliver the United Farm Workers' endorsement a few months later. "Of all the politicians I've endorsed, nobody has ever called and been so grateful," Huerta said. "She made it clear how much she appreciated my support, and how much she needed me." […]

Courting Antonio Villaraigosa required more than a phone call; Clinton visited his house in California, invited him to two dinners in Washington, and scheduled a meeting between the Los Angeles mayor and Bill Clinton. Even then, Villaraigosa ruminated for months and spoke privately with Obama and former senator John Edwards before finally endorsing Clinton last May.