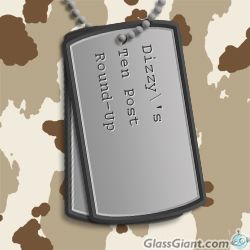 Today, was a miserable day. Sure, it was a beautiful sunny day. But, noticing that we have passed a casualty milestone in Iraq and hearing how cold-hearted the Vice-President was, in response to that milestone, broke my heart. Every day, I hope that my soldier will not become part of that milestone, yet, the current White House administration acts like, "it's business, as usual"; not a big deal.
So, it's only fitting that I re-post the following video, because it is a big deal that this president does not care that he is tearing this country apart: Dear Mr President – Pink
Meditate on today's Ten Post Round-Up:
1: Being bullied: Sadly, just another day, for some kids…
What the f@#k is wrong with parents in Arkansas?—Brilliant at Breakfast
2: Decisions, decisions: If not McCain, then whom?…
3: "Make your kids lose weight or they'll be raised by the state"…
4: Drug testing bar patrons?…
5: But, for the grace of blogs, go I…
6: JPMorgan trying to schmooze Bear Stearns shareholders…
Bear Stearns shareholders don't like "The Deal"—Its my Right to be Left of the Center
7: Apparently, the Pittsburgh Steelers think it's OK to beat your girlfriend, so long as you have a religious reason for doing so…
Domestic Violence, Ownership of Women, and, Of Course, Jesus—Shakesville
8: Mortgage insurers refusing to do business in some ZIP codes…
Mortgage Insurers Have Blackballed 20% of US—Signs of the Times
9: Dear, Mr. President: "You've come a long way, from whiskey and cocaine"…
Cheney On 4,000 Troop Deaths In Iraq: 'The President Carries The Biggest Burden, Obviously'»—Think Progress
10: Time in a bottle, circa 1986…
4000+ casualties: Why Bush can not even look any of us in the eye…
300 días hasta el final de un error…
Peace.
(Maybe GWBs prosthetic brain helps him feel our pain!…)