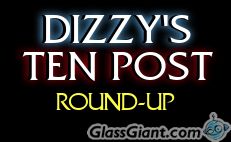 Just so you know, I am very grateful for being able to write this round-up, after having gotten myself stuck in my basement (longish story)!
After screaming and wailing for about fifteen minutes, my "MacGyver" instincts kicked in and I was able to create a contraption to extricate myself before I was overcome by cobwebs and hairballs.
As soon as I freed myself, I swore by the Flying Spaghetti Monster that I would get this round-up to you, if it was the last thing I did.
After washing my hair, painting my toenails, redecorating my living room and consulting a fortune cookie for my weekly lottery numbers, I was finally able to sit down and write this round-up.  Since I'll be bedding down, after this, I guess you could say this is the last thing I am doing.
I'm in a jazzy, bluesy, kind of mood, so I'll let "Lady Day" sing some blues for you: Billie Holiday "One for my Baby (and one more for the road)"
Wonder who's singin' the blues in today's Ten Post Round-Up:
1: Spooky: When an internet prank based on your work finally gets to you…
2: Typical: Bush appointee who oversees consumer product protection leaving FTC to work for largest consumer products company…
How Things Work: FTC Chair to Join Procter & Gamble—The Huffington Post
3: Stupid Laws: Want to sell a book with sexually explicit material in the Hoosier state, pay up and register with the secretary of state…
4: Peculiar: Nobody thought of this before now?…
5: Rep. Sally Kern: "…Mine is the view of the average American citizen…"…
Oklahoma Rep. Sally Kern, openly gay church pastor face off on television—PageOneQ
6: Cold Case Files: D.B. Cooper clue?…
7: Taxes: Three extra tax-free days, this year…
8: Speaking of Taxes: Eventually it won't just be soldiers "paying" for the wars in Iraq and Afghanistan…
9: Colorado Fundies: Abortion protesters will no longer be allowed to camp out in front of someone's home with billboard-sized signs…
10: Frugal: Who doesn't like free stuff?…
Full disclosure: A dozen "Peeps" were harmed in the making of this post.
298 días hasta el final de un error…
Peace.
("Lady Day" is stuck in my ipod and I'll only let her out on "holidays"…)