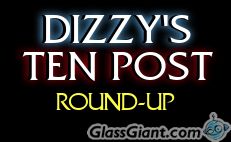 Crazy, crazy days, these have been. Reading the headlines crossed over from April Fool's Day and finding that the stories that seemed like jokes were not laughable, at all. Little kids plotting to kill their teacher. Bernanke speaking in hushed voice about the current impending great depression recession. A Democrat actually getting a significant discount during a recent visit to a prostitute (well, compared to Eliot Spitzer).
Sometimes I think I read/watch too much news. It's making me jaded to the point where, although some things make me want to throw things and yell at the top of my lungs, "WTF???", most days, nothing surprises me anymore.
I'm in the mood for another classic rock golden oldie: DON HENLEY "Dirty Laundry" (live)
I don't believe today's Ten Post Round-Up will make me any less jaded:
1: How do I put this delicately? The taxpayer Pentagon is spending Tiffany prices for dollar store quality goods and not even getting our their money's worth, yet still grossly overbudget…
2: Riddle Me This: Hasn't this country had enough of one overgrown frat boy's antics over the last 8 years?…
3: Can we play another game, this one sucks! Rock, paper, scissors, perhaps?…
Heads I Win, Tails You Lose: How Judges make you do the time even if you didn't do the crime.—The Huffington Post
4: Question of the day: Would watching Faux Nooz make Dizzy more or less jaded?…
When Neil Cavuto Doesn't Announce the Closing Numbers on the Dow First Thing, You Know it Was Down—News Hounds
5: Nipplegate: Man-boobs will be the start of Armageddon?…
'Man nipples' get the boot on Orlando WWE billboard—Pam's House Blend
6: In case you missed it: This is what Talladega Nights would have looked like if "Borat" had written it…
7: "Dangerously Unfunny": Jokes about gay and trans gendered people. Of course, late night comics beg to differ…
8: Prosperity Gospel: Jus' cuz you can't take it with you doesn't mean Jesus don't want you to have more of it (even if you don't really need it)…
The Hypocrisy Gospel: Get Rich for Jesus?—Signs of the Times
9: Jive Talkin': "Silly citizens! The laws don't apply to us!"…
Administration bypasses laws to build border fence—Think Progress
10: Bargain Hunter: That runaway preacher probably spent more at the strip club…
Thrifty Senator's Husband Only Spends $150 On Prostitute!—Wonkette
There is not enough Tequila in the world to help me overcome my jadedness, but that ain't gonna stop me from self-medicating over the next three nights (one of the benefits of working in a bar…although, most of my drinks are gifts from guests, trust that I pay for their generosity with a pounding headache the next morning). So, if you don't hear from me for a couple of days, please send that trusty Saint Bernard and make sure he's got a keg of Corona on his collar (Thanks, in advance).
291 días hasta el final de un error…
Peace.
(I wish someone else would do my dirty laundry…)