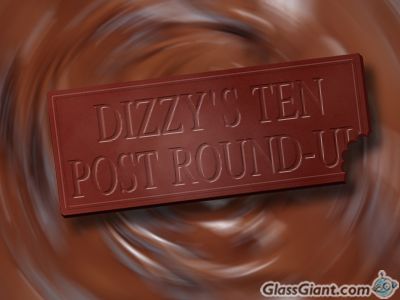 With my kids getting a little older and not needing 100% constant supervision (including the fact, as we are doing lessons, they can follow me around the house for instruction when I give them homework) and with the limited time I chat with my husband, online, I am finally getting a groove where I find that I can actually accomplish many things of substance and in a short amount of time. I haven't had that since before the little ones were still in diapers (which is about the same time that I also started my business). So, now, I am actually experiencing boredom. What a relief!
So what do I decide to do on a workday, when I could be resting up for the long night ahead?
Chocolate? Yes, of course.
But, not only that, I decided to post a round-up. I must like you guys, a lot. Besides, according to my site stats, I have one loyal reader, so I don't want to disappoint him/her.
It's snowing outside, so it's possible that I may not even go to work if it get's nasty. The weather outside and all the dramz in the nooz is putting me in a miserable funk, so I figured I'd offer up something upbeat and funky for your musical intervention, today (btw: Dizzy abso-friggin-lutely LOVES this song): Ce Ce Peniston – Keep On Walkin
Stop a moment and let me walk you through today's Ten Post Round-Up:
1: Wholesale Lies: The surge is not working as planned…
General William Odom Tells Senate Rapid Withdrawal Is Only Solution—AfterDowningStreet.org
2: Health Compromised: Eating ourselves to death…
Pollan: Nutrition "Science" Has Hijacked Our Meals — and Our Health—AlterNet
3: Worthless Education: President with an MBA failing the USA in the time of financial crisis…
"Mr. Bush has sometimes seemed invisible during the housing and credit crunch"—AMERICAblog
4: Let's Raise A Toast(er): The Cylons are coming! The Cylons are coming! (PSA: Friday night on Sci-Fi Channel) Consider yourself warned!…
5: Sigh of Relief: We should be glad that GWB made the wrong decision after thinking about it for some time, instead of implementing his deadly decision right away…
David Gregory says Bush showed good judgement for not invading Iraq immediately after 9/11—Crooks and Liars
6: Knock on Wood: Help for homeowners may be on its way…
7: Why Ask Why: Americans have not forgotten about Iraq, the media has just forgotten to report on it…
Myth: Americans Tuned Out Iraq Fact: The Press Tuned Out Iraq—The Huffington Post
8: Talk about "Whack": Beware of the credit bureau "bait and switch"…
9: Keep on Walkin': Indeed, in regards to race issues, "the past isn't dead and buried. In fact, it isn't even past"…
10: Cha-ching: "Republicans truly are the party of personal responsibility…unless you're gay, poor, or a woman"…
Just remember: Some days you're the windshield. Some days you're the bug.
That is all.
290 días hasta el final de un error…
Peace.