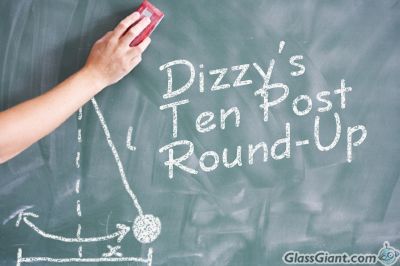 Put on your thinking caps. You will definitely find today's Ten Post Round-Up educational:
1: Why does it seem that people who have a problem with women having abortions seem to have no problem with war?….
2: Gas is almost up to $4.00…
3: 4,327 Florida 10th graders can't read…
4: Do we really want four more years of GWBs policies?…
John McCain didn't vote for George Bush in 2000: Has adopted his platform for 2008—Crooks and Liars
5: The woman who helped overturn the law that banned interracial marriage, has passed away (Dizzy and her husband are thankful for that)…
6: Rapist gets to graduate with his high school class while his victim is forced to finish her education at home due to harassment by the student body…
7: This is also the reason for increased reenlistment rates (soldiers know they are likely going to be forced to stay whether they reenlist or not)….
8: This is sad. A task force is building a comprehensive list of those who would be refused treatment in the event of a pandemic…
9: More than 230 economist, from all political backgrounds signed a letter opposing Hillary Clinton's and John McCain's gas tax proposal…
Economists Release Letter Opposing Clinton Gas Tax Plan—washingtonpost.com
10: The world really is their classroom…
258 días al final de un error…
14 days and a wake-up to R&R!
(Don't forget to refill your morning cuppa…)