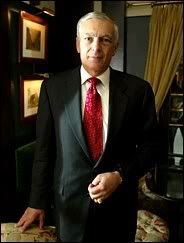 This is part of the Talking Points Memo Media Team covering the Netroots Nation going on in Austin, Texas this week.
This a short substantive comment from a former NATO Supreme Commander, Gen. Wes Clark, on the potential for NATO's involvement in Afghanistan.
He makes key points the nation needs to consider about what is at stake in the upcoming November election.
His comment about having a strategy for success alone makes this video worth watching:
My own take on the issue: First, lets put to rest any thought that Wes Clark is anything but the hardest working Democrat on the circuit. Since 2004, he has helped Congressional races raise money all around the country. He's a man I know well. He's a Democrat.
This interview was about the possible future involvement of NATO, an organization of 17 countries that must reach consensus before taking action, in Afghanistan. When you are hearing from the former NATO Supreme Commander on NATO issues you have to stop and listen. His point, which I have heard him make many times, is that the Bush Administration has damaged our relationship with every country in NATO. We have little influence except the power of our pocketbook. Clark is already on record calling for a deployment of more troops and assets to Afghanistan. He's been talking about it for years.
Clark's point in the interview is simple. We need a new administration that is willing to open the lines of communication and listen to our allies. The damage can be repaired. We can have a good relationship with the world. It will take Barack Obama's new face, his new administration , a new attitude and a continuing, concerted effort. It will be done.