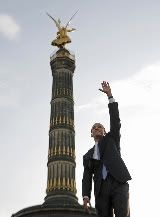 A Personal Confession: Today I apologize to Barack Obama. No one can think I've been an Obama supporter. I supported Hillary Clinton vigorously and went though a period of real mourning after the primary ended with her concession. I said, as a lifelong Democrat, that I would certainly support our nominee. I know that having a Democratic in the WH is essential. Yet I've called Barack Obama, repeatedly, 'an empty shirt'. Again, I apologize.
His speech in Berlin is brilliant, inspiring, well-timed, unifying, fact-filled and a spectacular home run for the United States of America. I was wrong. If he had anything to do with this call for the unifying policies embodied in this speech he's not an empty shirt…quite the opposite.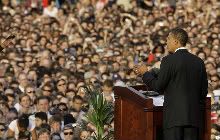 I will not attempt to summarize or post paragraphs of this historic speech. If you want to know our nominee you will have to read it for yourself. I can't imagine a better written speech that I am sure was delivered wonderfully.
Please do yourself a favor and read this speech. Read the European reporting and see the photo gallery of 29 photos at Der Speigel.
All of us know that America's image and diplomatic standing around the world, on every contintent has been damaged by the Bush Administration. If Barack Obama can maintain this unifying theme and take the real follow up actions needed to put those words into action America will again lead this world.