I don't know how many DemDaily readers watched the entire forum yesterday from Saddleback Church, hosted by Rick Warren. For me it was very personal because, at one point of my life when I had a very, very significant other who was a member of the church, I got to know Rick Warren very well. He is a very, very legit guy.
I really don't think Obama 'won' the event. He put on an impressive display but he has not yet learned the overwhelming importance of narrative. He had the complexities of power and policy down cold. But most audiences read much more into a narrative, a story, than nuanced answers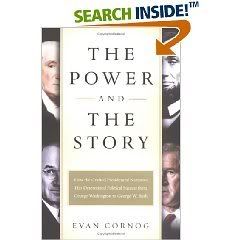 McBush put on a exquisite show of the power of narrative and story (remember the book I wanted you all to read, "The Power and The Story"?) while avoiding the nuances in the policy decisions. He also used his military captivity very well getting huge amounts of points for his decision, if it really was his, not to come home early. McBush was as good as he's ever been in a story telling format that suited him well. I doubt he will equal it again. If he'd had to truly debate Obama he would not have done nearly as well.
Amazingly McBush didn't say that his greatest moral failure was being an adulterer instead of just saying 'his first marriage'. Of course Cindy McCain's money and family fame got him into Congress and the Senate. Moving instantly into Cindy's coming home and introducing his to 'his new daughter' showed us, not only compassion, but who has the real power in that family. McBush did very well in this particular format. But his saber rattling at Russia, his insistence that the war in Iraq can be WON were non-starters for the general American public.
Obama got a lot of applause from a truly conservative crowd. It was impressive. Not at much as McBush but that was to be expected. If you wanted one-liners and good stories, true or not, then you loved his performance and I agree it was his best. If you wanted substance, quiet competence as well as an understanding that there are a lot of grays in our world today…Obama did very well.
For Obama, his insistence on the nuanced answer (which is usually the most accurate overall) is proving to be an issue in this campaign as it was for John Kerry. Put him one on one with McBush and I think he'll come out on top when his answers have to be much more succinct. He had better learn this narrative reality. His campaign has to accept that fighting is part of the game.
I'll give McBush the edge in the overall popularity but not in the essence of the moment about the presidency. He had the best jokes and stories. McBush hasn't done this well before and I doubt he will again. It was a good afternoon for him. This was a perfect format and personal interaction for him. Both knowing and joking with Rick also set a very different tone to this event.
McCain has continually stepped on his tongue in this campaign. He certainly did not yesterday. But yesterday is yesterday. There many months of time for him to do a lot of screw-ups as badly as he has previously.