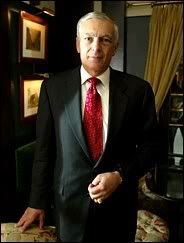 I'll continue the concept of Pamela's excellent article with another long shot possibility that may have been made by Barack Obama. I agree with Pamela that all this smoke may be a screen for another VP pick. With that as a basis I'll bring another name to the list. A name I know very well.
Wes Clark. 4 Star General Wesley Clark, former NATO Supreme Commander, brings unquestioned foreign policy credentials and military expertise. His morality and commitment to his positions and soldiers has been validated throughout his career.
Most do not know that he is an excellent planner and administrator. He proved those merits in a number of positions in his career particularly while he was Allied Supreme Commander of NATO. In that position he not only mediated a crisis in the Balkans but also managed, in detail, a war with only one US casualty saving 1.5 million people from 'ethnic cleansing". He also was responsible for the welfare of 900,000 troops and families.
His knowledge of not only of foreign policy but his close personal relationships with many of the current players on the world stage, developed during his time in Europe and other posts, could complete his qualifications. But there is one more that again is little known but could play a major part in an Obama administration.
Wes Clark was J5, senior intelligence officer, for the Joint Chiefs of Staff. As J5 all intelligence reports or proposals to be presented to the Joint Chiefs had to go through his hands. Reputedly most original papers were sent back for re-examination and better documentation.
It is unlikely that any agency or senior policy maker could someone blow false intelligence reports into the Obama WH with Clark's knowledge of exactly how to validate or reject those reports. He could be a key player in making sure we again never commit to miltary action without reason and without a concrete, detailed and closely examined plan for success.  That has been his constant refrain for years: never go to war without a plan for success and never go to war except as a unwanted and difficult last resort.
It is unlikely that Wes Clark will actually be picked for the Vice President in an Obama administration. Given his qualifications, however, he should have been on the very secret short list.