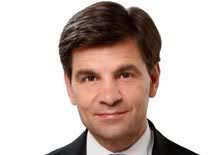 George Stephanopoulos, ABC's Chief Washington corespondent, reports from his brand new blog, George's Bottom Line, that McCain has pulled out of Wisconsin and New Hampshere. The real news in this report is New Hampshire.  Last week he was campaigning in New Hampshire. While McCain has not pulled out of Colorado, ad buyers report no new ad buys and a stretching out of the old buys.
Newsweek reports, via Andrew Romano's blog Stumper, that McCain, according to aides, has all but conceded Iowa and New Mexico. The shocker is Colorado.
With news broke by CNN's John King, CNN's chief national news corespondent, reports on the CNN Political Ticker that, Colorado is "gone," said King's source. "Most of us have a hard time counting on [it]." While
McCain polls within 5% in Colorado, well within striking range, aides believe that Obama superior ground game will be the deciding factor.
Per Romano, "The headline posted on CNN.com last night was crystal clear: "McCain Camp Looking for Way to Win Without Colorado." The answer, according to sources, is a reliance on winning Pennsylvania, a state that hasn't voted Republican for a presidential candidate in 20 years. If true it's longshot and critical to the campaign.
Because McCain used public financing he is now in a cash crunch that is restraining his ad buys and ground campaign. He is still fighting in the background states such as Florida, Pennsylvania and Ohio.
As of October, when combined candidate cash on hand with the DNC and RNC cash on hand to use for their candidates, Obama had a $37 million dollar advantage. Obviously Obama's record fundraising will boost that number with his contribution in October. John McCain must, therefore, ration his advertising money.